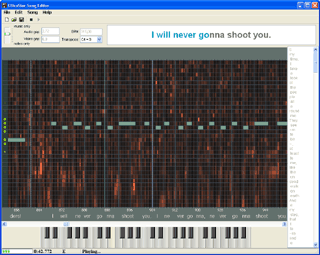 Create your own songs for UltraStar karaoke game or fix existing songs with this free and easy-to-use visual editor.
Features:
- Visual editor with intuitive interface allows you to draw notes and type syllables.
- Spectrum analysis.
- Multi-level undo/redo.
- Block operations with clipboard.
- Mix MP3 track and melody track with zero latency between them.
- Unicode support (UTF-8 encoding) for multi-language support.
What it doesn't:
- It doesn't support any MIDI files (use UltraStar Deluxe internal editor to convert MIDI files to song files).
- It doesn't do any automatic recognition - you should "draw" the melody yourself.
License
The editor is a freeware program. You can use it free of charge. You can distribute it. The editor is provided on AS-IS basis: no any warranty etc.
If you like it - you're welcome to support me and buy any games listed on this page.
Contact information.